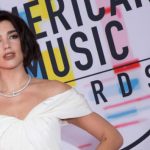 ABC/Image Group LADua Lipa transforms into an action star in her video for "Swan Song," the theme from the upcoming motion-capture film Alita: Battle Angel.
In the video, Dua steps into the Alita's world: a scrapyard in Iron City. She gets chased by a giant robot before confronting her own reflection in the mirror. When she looks in the mirror, she sees Alita – the movie's cyborg warrior – staring back at her. Alita helps Dua realize her power and the video ends with Dua becoming part cyborg.
"While in the film Alita is quite literally on a journey to discover who she is, her story serves as a really powerful allegory for any girl who doesn't yet know her own power," the video's director, Floria Sigismondi, says in a statement.
She adds, "I wanted to play with that same profound notion by dropping Dua into a facet of Alita's world and allowing Alita to serve as a surrogate that leads her on a journey to discover she's stronger than she ever could have imagined."
"Swan Song," co-written by Dua, will serve an anthem in the film, produced by Avatar's James Cameron and Jon Landau and directed by Robert Rodriguez.
Alita: Battle Angel is set for release on February 14.
Copyright © 2019, ABC Radio. All rights reserved.