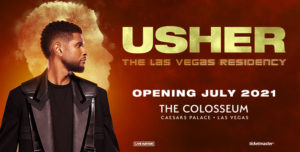 R Dub! and Sunday Night Slow Jams Invite You!
Mix 96.7 FM and  Sunday Night Slow Jams is proud to announce Usher – The Las Vegas Residency
at The Colosseum at Caesars Palace!
Opening in July 2021!
12 Dates through New Year's Weekend 2022.
Tickets on sale now at Ticketmaster!
WIN A TRIP TO LAS VEGAS + TICKETS TO THE SHOW!
R Dub! and Sunday Night Slow Jams wants to send you a guest to Las Vegas to see Usher in 2021.
Winner receives airfare, a two night stay at Caesar's Palace  and tickets to the show!
Contest runs from September 3, 2020 until June 1, 2021.  See official rules here.
Sign up Below to win from Mix 96.7 FM!!