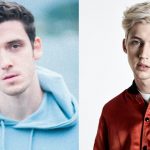 Sam Fisher; Hedi SlimaneThis will wake you up: Lauv and Troye Sivan have released their new duet, "i'm so tired…"
The track, which they first announced last week, is an anti-love song for anyone who's been heartbroken and has to deal with watching others being happy and in love.
"'i'm so tired…' is a heartbreak song about an inescapable person," Troye says in a statement. "Lauv is such a great songwriter, and [he] and I were writing together for his project when the song came about. We ended up creating an accidental duet, and I couldn't be happier to be on the song."
Lauv, who calls the song a "heartbroken banger," adds, "I've been a huge fan of Troye's music and what he does for the world for years, so working with him was an absolute honor. When we wrote 'i'm so tired…' he just sounded too good singing it, so I think it was just natural to do the record together."
He also reveals this is the last song he'll be putting out until his debut album is ready.
Lauv and Troye are set to perform "i'm so tired…" on Jimmy Kimmel Live February 6.
Copyright © 2019, ABC Radio. All rights reserved.