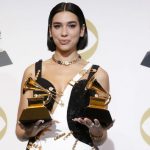 Trae Patton/CBSFew people had a better Grammy night than Dua Lipa. Not only did she win two awards — Best New Artist and Best Dance Recording for "Electricity" — but she also performed a well-received duet with alt-rock artist St. Vincent. Next up for the British artist: her sophomore album.
Speaking backstage at the Grammys Sunday night, Dua was asked about plans for new music. "Well, I'm working on finishing my new album which is almost done," she replied. "And I'm really just trying to keep it a secret for as long as I can, until I start putting music out. But you'll be hearing from me soon!"
Asked if there will be any collaborations, Dua would only say, "Yeah, probably."
The U.K. star's self-titled debut album came out in 2017 and spawned the hits "New Rules" and "IDGAF." Last year, she released a "complete" edition of the disc that featured her collaborations with Silk City, Calvin Harris, Black Pink and Martin Garrix.
Copyright © 2019, ABC Radio. All rights reserved.