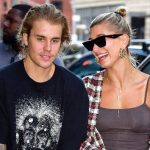 James Devaney/GC ImagesIf you saw the paparazzi photos of Justin Bieber and Hailey Baldwin having a tearful discussion in New York City earlier this week, you may have wondered if there's trouble in paradise for the recently-engaged lovebirds.
That's not the case, a source tells People.
"Justin being emotional has nothing to do with him not being happy. It's the opposite. He is the happiest he has ever been," the source says. "He wonders if he deserves the happiness, and that's partly why he is emotional."
While taking a break from a bike ride in Manhattan Tuesday, Justin was seen crying with his head in his hands as Hailey comforted him. Then, later, Hailey was also seen in tears as the two sat in a Tribeca restaurant. Justin was seen caressing her face as she cried.
On Wednesday, things seemed to be back to normal for the couple. Hailey accompanied Justin as he got his hair cut and they were all smiles.
Copyright © 2018, ABC Radio. All rights reserved.