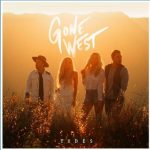 Triple Tigers Records
Colbie Caillat's no longer a solo artist: The "Bubbly" singer is now part of Gone West, a country quartet that includes her fiancé, Justin Young, her longtime collaborator, Jason Reeves, and his wife, Nellie Joy. Colbie admits she's thrilled to ditch the solo life to be a member of a group.
"I always wanted to be in a band," Colbie tells ABC Radio. "Even in interviews, when I'd see other bands talking…it just seemed like the banter seemed more fun."
Colbie admits she found being a solo artist "scary" at times, noting, "Now, we all just can play off of each other…it makes the travel fun, it makes the performing fun…it's better."
Gone West grew out of Colbie's 2016 solo album, The Malibu Sessions. For that record, she, Justin, Jason and Nelly all lived together and wrote songs, and then went on tour together.
"It just felt like so much fun…an acoustic tour and all of us doing four-part harmonies," Colbie explains. "We just kept talking about the idea of starting the band."
Finally, about a year-and-a-half ago, Colbie says they decided to go for it. But since their music is still folky, acoustic pop, why call themselves 'country?'
"The tradition of country music has a lot of the attributes of the music that we've always made, which is storytelling and acoustic guitars, so I think it was sort of a natural fit for us," Justin explains. "It was the obvious space for this music to live."
How the foursome's fans reacted to the new direction? Jason says with a laugh, "A lot of them were saying, "How come it took you so long to do this?"
Adds Justin, "Yeah, a lot of the reaction was, "Duh!"
Copyright © 2019, ABC Radio. All rights reserved.