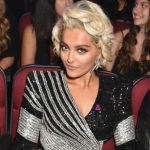 FilmMagic Inc. via ABC/Jeff Kravitz/AMA2018Before she became a star in her own right, Bebe Rexha was a songwriter for other acts. So it's no surprise that according to Billboard, she's been tapped to perform at Spotify's Secret Genius Awards.
The awards show, which launched in 2017, is meant to shine a spotlight on the writers and production team members who contribute so much to your favorite artists' success, and to the music industry in general. The awards will be presented to the behind-the-scenes figures who worked on the most-streamed songs this year.
In addition to Bebe, Billboard reports that Ty Dolla $ign and Becky G will also perform at the ceremony, while Bazzi, G-Eazy, Tiesto, Timbaland and chart-topping songwriter Max Martin will serve as presenters.
Ne-Yo hosts the ceremony, which will take place at The Theater at Ace Hotel in L.A on November 16.
Copyright © 2018, ABC Radio. All rights reserved.