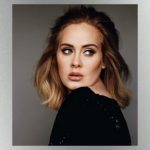 Alasdair McLellanAdele took to social media Monday to raise awareness for a postpartum issue not many people talk about.
She posted the story of her best friend, Laura Dockrill, who went through a harrowing battle with postpartum psychosis after the birth of her son – Adele's godson – six months ago.
"This is my best friend. We have been best friends for more of our lives than we haven't," Adele wrote on Instagram and Twitter. "She had my beautiful godson 6 months ago and it was the biggest challenge of her life in more ways than one."
Adele continued, "She has written the most intimate, witty, heartbreaking and articulate piece about her experience of becoming a new mum and being diagnosed with postpartum psychosis. Mamas, talk about how you're feeling, because in some cases it could save yours or someone else's life x."
In her story, Dockrill writes that her doctor believes the traumatic birth could be what triggered the illness, which left her with an "overwhelming sense of fear and dread" and at times made her feel suicidal.
With the help of her family, a psychiatrist and medication, Dockrill is now recovering.
"You don't have to brave it alone," she reminds moms who may be going through the same thing. "You don't have to act like a hero, you already are one."
Copyright © 2018, ABC Radio. All rights reserved.