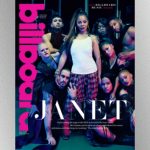 Miller Mobley
This year's Billboard Music Award Icon, Janet Jackson, today celebrates the 25th anniversary of her seminal 1993 album, janet. The entertainer talks to Billboard about the personal transformation expressed in the album's songs, noting that the project "had a deeply sensual edge, because that's what I was going through in my life."
"I was discovering freedom in physical pleasure and loved writing about sexuality," she continues. "I tried to do it subtly and tastefully, but I also wanted to push the boundaries a bit."
And she did just that. Janet promoted the album by appearing topless on the cover of Rolling Stone with the hands of her then-husband Rene Elizondo, Jr. covering her breasts. janet. went on to produce six top ten hits.
Now, the icon is working on a new chapter in her life as a mom. She's also working on a new album, but won't give Billboard very much information about it.
"I wish I could," Janet says. "I'm not trying to avoid the question and be secretive, but the truth is that I don't try to analyze the creative process while it's still ongoing."
What Janet does say about her creative process, though, is that she's "very intuitive about writing. Anything can inspire me."
"I woke up this morning and heard a bird chirping in a rhythm that captivated my heart," Janet says. "Maybe that will turn into a new groove. Like everyone else, my feelings are fluid. My ideas are fleeting. I like to keep it that way."
Copyright © 2018, ABC Radio. All rights reserved.