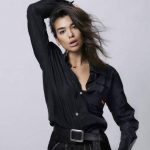 Markus PritziDua Lipa is speaking out in support of her fans after several concertgoers were forcibly removed from her concert in Shanghai, China Wednesday night.
Fan-shot video posted to social media shows a security guard pulling a girl out of her seat by her wrists as other fans shout in protest. The caption on the video claims fans were forced to stay seated throughout the show, and those who stood up were kicked out.
Others, though, suggested the fans were removed because they were waving gay pride flags. While homosexuality is not illegal in China, anti-LGBTQ sentiment is still prevalent.
Dua became emotional on stage later that night, telling the crowd, "I want to create a really safe environment for us all to have fun. I want us all to dance, I want us all to sing, I want us all to have a really good time … I would love, for these last few songs, for us to really, really enjoy ourselves — how about that?"
On Thursday, she posted her message of support for the fans on Twitter.
"Last night I did it for my fans," she wrote. "I will stand by with you all for your love and beliefs and I am proud and grateful that you felt safe enough to show your pride at my show. What you did takes a lot of bravery."
She added, "I would love to come back for my fans when the time is right and hopefully see a room full of rainbows. I love you Shanghai."
Copyright © 2018, ABC Radio. All rights reserved.